Federal Circuit
Finds selective withholding
Inequitable
A divided Federal Circuit panel has affirmed that three patents owned by American Calcar are unenforceable due to the inequitable conduct of the company's founder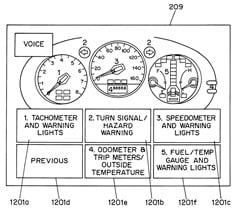 in selectively withholding from the Patent Office certain aspects of a prior art system. Calcar sued Honda for alleged infringement of fifteen patents, of which three remained at issue at the time of the appeal. All of the patents describe and claim aspects of a multimedia system for use in cars to access information about the vehicle and control its functions. Calcar alleged that computerized navigation systems in Honda cars infringed its patents. Honda alleged that Calcar's founder, Michael L. Obradovich, deliberately withheld prior art material to patentability from the Patent Office. Obradovich, who had primary responsibility for preparing the patent application from which the other patents derived priority, allegedly failed to disclose information that would have led the Patent Office to deny the patent as anticipated or obvious.
In 1996, when Honda added its navigation system as an option, Calcar was publishing "Quick Tips" condensed from the car owner's manual. Obradovich had the opportunity to use the Honda navigation system and see and photograph the system and the owner's manual. Subsequently, Obradovich began work on the patent application that eventually became the original patent at issue. The application referred to the Honda system as prior art, and Obradovich acknowledged that it was the basis for his inventions. However, Honda alleged that Obradovich failed to disclose that the Honda owner's manual and photos were in his possession, and that he deliberately withheld them during prosecution of the patent. Honda asserted that the operational details Obradovich failed to disclose were exactly those claimed in the patents at issue.
The jury found one patent valid and the other two invalid. However, the district court granted Honda's inequitable conduct motion and found all the patents unenforceable. When Calcar appealed, the Federal Circuit vacated the ruling in part and remanded. On remand, Calcar lost again, then appealed again.
The Federal Circuit found that Obradovich's disclosures to the Patent Office excluded material information and showed deceptive intent:
Partial disclosure of material information about the prior art to the PTO cannot absolve a patentee of intent if the disclosure is intentionally selective.
While it may be tempting to an inventor to try to hide relevant prior art from the Patent Office, such a misguided "strategy" can lead to wasted years and millions of dollars in litigation expenses before the patent owner's misconduct is finally uncovered.